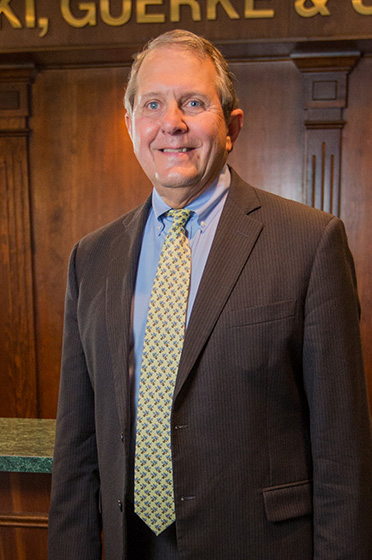 Location: Dover, Delaware
P: 302-678-3262
F: 302-678-9415
Practice Areas
Personal Injury and Wrongful Death
Motor Vehicle Accidents, Plaintiff
Premises Liability, Plaintiff
Property Damage, Plaintiff
Railroad Accidents, Plaintiff
Slip & Fall, Plaintiff
Animal Bites, Plaintiff
I. BARRY GUERKE, a Director in the firm, concentrates over 90% of his practice in the area of plaintiff's personal injury.
Mr. Guerke is a member of the Kent County, Delaware State and American Bar Associations, Delaware Trial Lawyers Association, American Association for Justice (formerly Association of Trial Lawyers of America), and Terry-Carey American Inns of Court. Mr. Guerke also currently serves as a member of the Kent County Superior Court Civil Advisory Committee.
He is a past President of the Delaware Trial Lawyers Association, serving as a member of the Board of Governors of DTLA from 1986 to 1990 and from 1995 to the present. He has also served as President of the Kent County Bar Association and Vice President of the Delaware State Bar Association. Mr. Guerke was a member of the Delaware Judicial Nominating Commission from 1987 to 1992, serving as Secretary from 1989 to 1992. He has been voted one of Delaware's top lawyers in plaintiff's personal injury in Delaware Today magazine.
Mr. Guerke is a graduate of the University of Delaware and Dickinson School of Law. Following graduation from law school, he served as a law clerk to Chief Justice Daniel F. Wolcott and Associate Justice William Duffy of the Delaware Supreme Court. After passing the bar exam in 1973, he was admitted to the State Bar and United States District Court, District of Delaware in 1974, the United States Court of Appeals 3rd Circuit in 1982 and the United States Supreme Court in 2005.
Bar Admissions
Delaware, 1974
U.S. District Court District of Delaware, 1974
U.S. Court of Appeals 3rd Circuit, 1982
U.S. Supreme Court, 2005
Education
1973 – J.D. – The Dickinson School of Law, Carlisle, Pennsylvania
1970 – B.A. – University of Delaware, Newark, DE
Published Works
Panel Participant, "DTLA Past Presidents Forum", Advocate, Volume 32, Number 2, at 6 (Summer), 2008
I. Barry Guerke, "An Interview With Dr. Glen D. Rowe, Orthopedic Surgeon", Advocate, Volume 27, Number 33, at 22 (Summer), 2002
I. Barry Guerke and Randall Robbins," Civil Jury Trials: Less Than Unanimous Verdicts", Advocate, Volume 26, Number 1, at 18 (Winter), 2001
I. Barry Guerke, "Harnessing Juror Attitudes About Soft Tissue Cases", Advocate, Volume 26, Number 1, at 22 (Winter), 2001
I. Barry Guerke, "Demystifying M.I.S.T. (Minor Impact Soft Tissue Cases)", Advocate, Volume 25, Number 3, at 20 (Summer), 2000
I. Barry Guerke, "Discovery Abuse: Expert Interrogatory Answers", Advocate, Volume 25, Number 1, at 32, (Winter 1999/2000)
I. Barry Guerke, Chapter Fourteen, "The Rise and Fall of Specialization in Delaware", The Delaware Bar in the Twentieth Century, Delaware State Bar Association, Delaware, pp. 147-164, 1994
Guest Editorials, Wilmington News Journal
Guest Editorials, Delaware State News
Professional Associations and Memberships
Multi-Million Dollar Advocates Forum (membership limited to personal injury attorneys who have achieved multi-million dollar trial verdicts, awards or settlements), Member
Million Dollar Advocates Forum (membership limited to personal injury attorneys who have achieved trial verdicts, awards or settlements in excess of one million dollars), Member
Delaware Trial Lawyers Association, (Board of Governors, 1986-1990, 1995-present; President, 1999-2000)
Kent County Bar Association, (President , 1985 – 1986)
Delaware State Bar Association, (Vice President, 1986 – 1987)
Delaware Judicial Nominating Commission, (Secretary, 1989 – 1992)
Governor's Magistrate Screening Committee, (Chair, 1985 – 1987)
American Bar Association
Terry-Carey American Inns of Court
American Association for Justice (formerly the Association of Trial Lawyers of America), Member