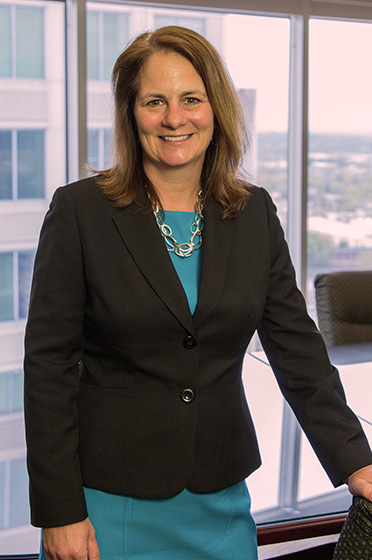 Location: Wilmington, Delaware
P: 302-594-3332
F: 302-654-3033
Practice Areas
Banking
Health Care
Insurance
Regulatory Representation
Corporate Law
CHRISTINE P. SCHILTZ joined Parkowski, Guerke & Swayze, P.A. as a Director in June 2003, bringing with her a practice concentrated in the areas of insurance and banking law, health care and government relations and regulatory representation. Ms. Schiltz has represented a variety of clients before the Delaware General Assembly and Delaware administrative agencies. Representative clients include, Christiana Care Corporation, Corteva Agriscience, Brighthouse Financial, AT&T, America's Health Insurance Plans, AAA Mid-Atlantic, and the Major League Baseball Players Association.
Ms. Schiltz also practices in the areas of corporate law and the representation of business entities. She routinely advises clients on issues involving Delaware corporate law and Delaware alternate business entities, including Delaware investment holding companies.
Ms. Schiltz just completed a six-year term on the New Castle County Chamber of Commerce's Board of Directors, including three years serving on the Executive Committee. She currently serves on the Board of Directors of the Emerging Enterprise Center and Benefits Connection. She serves on the Board of Trustees for the New Castle Presbytery and is Co-Chair of the Board of First State Squash, an athletic and youth academic program serving low-income children from the City of Wilmington.
A former judicial clerk to former Chief Justice, Myron T. Steele, Ms. Schiltz is a member of the Delaware State Bar Association, having formerly served on its Executive Committee. She also formerly served on the Bench-Bar Media Conference.
Ms. Schiltz is a 1993 graduate of the University of Richmond School of Law. She received her B.A., cum laude, from Wake Forest University in 1990. She was admitted to practice law in Delaware in 1993. A Delaware native, Ms. Schiltz currently resides in Wilmington, Delaware with her husband and two children.
Bar Admissions
Delaware, 1993
Education
1993 – J.D. – University of Richmond School of Law, Richmond, Virginia
1990 – B.A. – Wake Forest University, Winston-Salem, NC
Published Works
David S. Swayze and Christine P. Schiltz, "State-Owned Banks – The Future of Banking or a Relic of The Past?," , Delaware Banker, Vol. 9, No. 2, Spring, 2013
David S. Swayze and Christine P. Schiltz, "The Unbanked Consumer and the Future of the Banking Industry (Is Regulation Adding to Their Ranks"), Delaware Banker, Vol. 8, No. 1, Winter, 2012
David S. Swayze and Christine P. Schiltz, "The Dodd-Frank Reform Bill – Will It Work?", Delaware Banker, Vol. 6, No. 4, Fall, 2010
David S. Swayze and Christine P. Schiltz, "A Roll of the Dice? A Look Back at TARP One Year Later", Delaware Banker, Vol. 5, No. 4, Fall, 2009
David S. Swayze and Christine P. Schiltz, "The Troubled Asset Relief Program, Observations from a Bank Regulatory Perspective on the Emergency Economic Stabilization Act of 2008", Delaware Banker, Vol. 4, No. 4, Fall, 2008
David S. Swayze and Christine P. Schiltz, "The Alternative Bank Franchise Tax as an Economic Development Tool", Delaware Banker, Vol. 2, No. 4, Fall, 2006
David S. Swayze and Christine P. Schiltz, "The Evolution of Delaware Banking", Delaware Banker, Vol. 1, No. 4, Fall, 2005
David S. Swayze and Christine P. Schiltz, "The Delaware Lawyer as Lobbyist", Delaware Lawyer, pp. 18-21, Fall, 2003
Professional Associations and Memberships
American Bar Association, (Business Law, Tort & Insurance Practice Sections)
New Castle County Chamber of Commerce, Board of Directors
Delaware State Chamber of Commerce, Member, Health Care Committee
Delaware State Bar Association, Executive Committee, 2004 – 2006
Leadership Delaware Graduate
Office of the Child Advocate, State of Delaware, (Guardian Ad Litem)
Terry-Carey Inn of the American Inns of Court