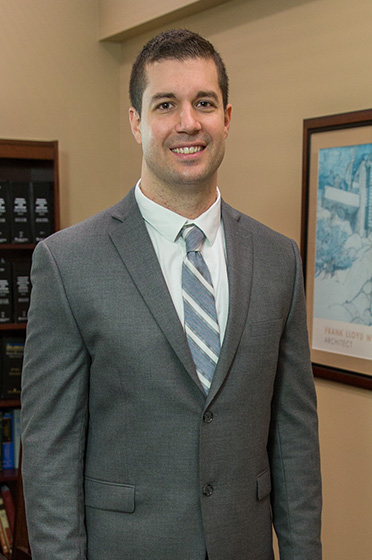 Location: Rehoboth Beach, Delaware
P: 302-226-8702
F: 302-678-9415
Practice Areas
Estate Planning and Estate Administration
Real Estate & Land Use
Business Services
Consumer Bankruptcy (Chapters 7 and 13)
HOA/Condominium Association Disputes
Land Use and Zoning Issues
Residential and Commercial Leases
Landlord/Tenant Law
SHANE C. HEBERLING joined Parkowski, Guerke & Swayze, P.A. as an Associate in 2017. His practice focuses on residential and commercial real estate transactions, business services, estate planning, consumer bankruptcy (Chapters 7 and 13), HOA/condominium association representation and disputes, civil litigation, debt collection, residential and commercial leases, and landlord/tenant law.
Mr. Heberling has represented DelDOT, Sussex County, the Delaware Agricultural Lands Preservation Foundation, and various local businesses and homeowners associations. Mr. Heberling has practiced before the Justice of the Peace Court, Court of Common Pleas, Superior Court, Family Court, and the Bankruptcy Court for the District of Delaware, and has contributed to multiple cases presented before the Supreme Court of the State of Delaware.
Mr. Heberling is an active member of the American Bar Association, Delaware State Bar Association, and the Sussex County Bar Association. He is a past member of the Board of Bar Examiners. He volunteers his services to involuntary commitments, representing inpatient or outpatient clients with mental illness. Mr. Heberling is an adjunct professor at Delaware Technical Community College, teaching on the subjects of business entities and contracts. Mr. Heberling also teaches continuing education courses in real estate law for the Omega Real Estate School.
A Pennsylvania native, Mr. Heberling graduated from Wilkes University (PA) with a B.A. in Political Science and International Relations. While at Wilkes, Shane was a four-year member of the football team. He continued his education at Widener University Law School, Harrisburg Campus, where he graduated cum laude. During his time at Widener, he served as a member of the Law Review and earned his Certificate in Business Advising from the Institute of Delaware Corporate and Business Law. Mr. Heberling was admitted to practice law in Delaware in 2015.
Education
Honors: Certificate in Business Advising from the Institute of Delaware Corporate and Business Law – Widener University School of Law, Harrisburg, Pennsylvania
B.A. in Political Science and International Relations – Wilkes University
Professional Associations and Memberships
American Bar Association, Member
Delaware State Bar Association, Member
Sussex County Bar Association, Member